EMERGENCY RESTORATION SERVICES
Any damage to property requires immediate attention to ensure effective restoration and prevent further damage. Our emergency damage repair service makes sure to restore your property in as little time as possible. We are equipped to handle the various kinds types of water damage and their effects.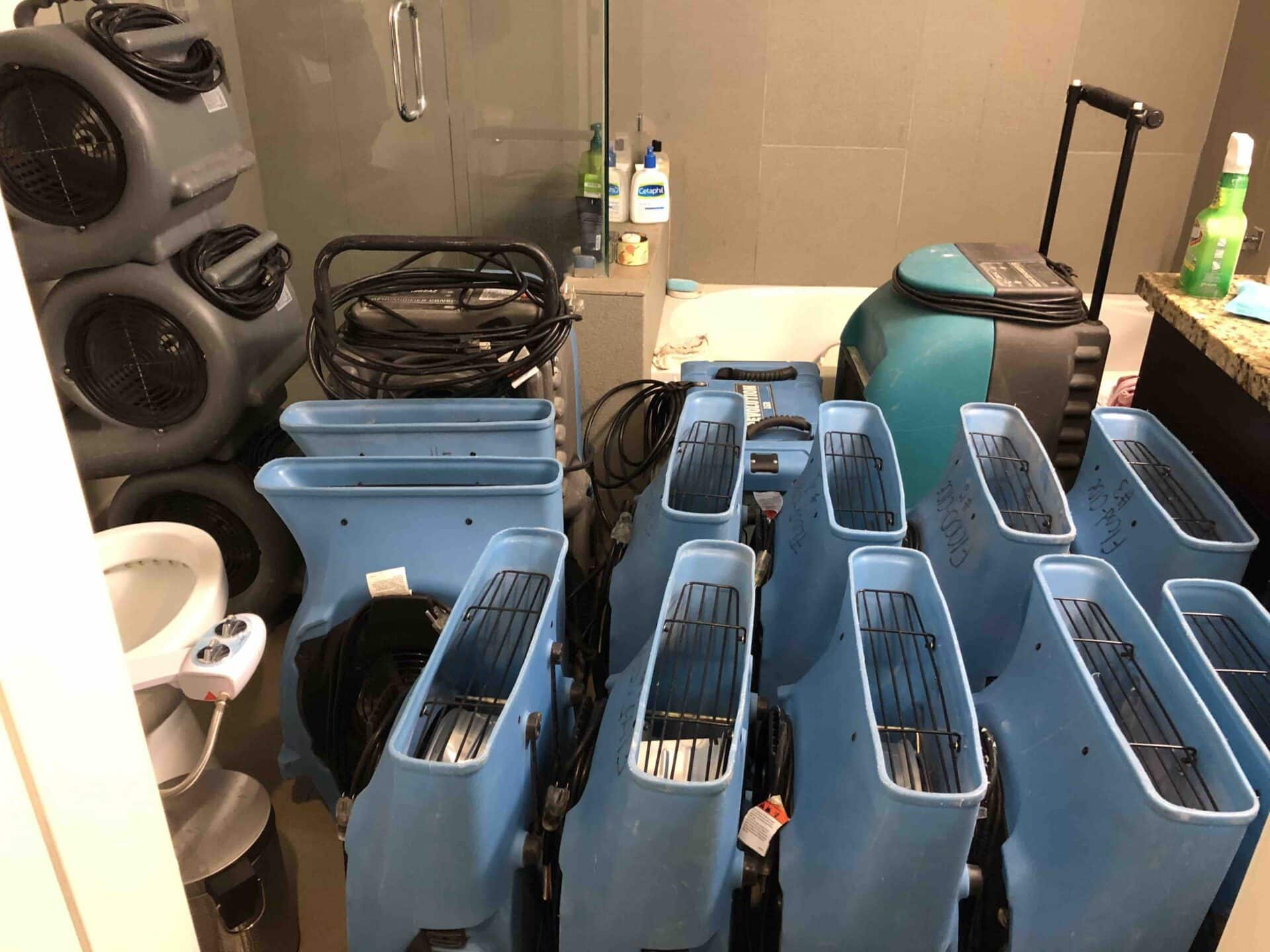 Our services are available 24/7, and we strive to provide fast and efficient service by reaching your place in less than an hour if it's within a 25-mile radius.

Faulty sump pumps, leaking water heaters, and foundation cracks can all lead to flooding, structural damage, and mold growth. Basement flooding requires immediate and specialized handling to prevent health problems. Let our professional cleanup team handle this mess for you.

Breaking or leaking pipes in your kitchen and bathroom can cause water damage. If it's not promptly cleaned and dried, water damage could cause serious problems, including mold growth or even worse, wood rot, incurring even more costs. To ensure complete restoration, we also repair drywall in addition to inspecting walls, floors, and subfloors for damage, and cleaning up the mess and replacing any floors, cabinets or structural or decorative elements of the home or business.

When the outside temperature drops in the winter months, poorly insulated pipes inside may freeze and burst, leading to extensive water damage. Our service includes removing the water and making sure the entire affected area is dry and functioning shortly after.

Machines like washing machines and dishwashers can malfunction without warning and overflow. If not taken care of at the earliest, it could lead to electric shock. Our professional water damage restoration contractors will remove the water from the affected area and ensure the area is moist-free.

Earthquake and Storm Damage
Heavy rains could result in flash flooding, resulting in rivers, creeks, and storm drains overflowing onto nearby houses and office properties. We provide storm damage renovation services and water damage restoration using industry-grade equipment.

Emergency handling by trained professionals is required to treat contaminated, unsanitary water from sewer line backup to ensure safety. Our cleaning techniques for sewage and sewage water include safe removal, and thorough cleaning, decontamination, and sanitization of your property.

Fire Restoration Emergency Services
We clean the leftover water from putting out a fire using state-of-the-art equipment and methods and return your property to its pre-damage state.
We have 5 stars on Yelp!

What People Are Saying
People love us and our service! Listen to what our customers have to say about their experience working with us!
Floodcide restoration came to my home and performed mold remediation They handled everything in a timely manner and were affordable I truly recommend this company Andy and the girls in the office were honest and very helpful
I had a very bad leak in my house when I came home from work and I couldn't even walk in my home without my feet being covered in water, right away I was lucky to find Flood-Cide Restoration, I spoke with Andy and he explained to me he can have a team to my house right away and when they arrived they were very professional and explained to me why this happens and how they can fix it and overall they found a lot of mold in my house and started cleaning up all the dirty water and mold in my house , within a couple hours they were finished and it's amazing to even think my entire house was flooded!! And after it looked brand new as if nothing happened, I'm glad I called Andy and he was able to answer and help me right away , and what I also loved was he kept in contact with me for days to make sure everything was okay and if I was happy with the job. overall I give you guys 10 stars because you are a outstanding company with many years of experience, thank you Andy for your help.
Andy and the team at Floodcide are top notch! These are honest hard working people and will take care of you from start to finish. Helluva crew.
Silvana Carrion
2022-05-11
Amazing service!!! They were very honest about prices and work that needed to be done-with fair prices. Worked around our schedules and the work they did looks like there was never an issue. I will be using them in the future to remodel our shower!
Bryan Ferderer
2022-04-21
Laundry room flooded and called Flood-cide to come check it out. There was so much more to the flood then expected. Come to find out there was a leak that cause mold within the walls before the pipes burst. Great company, Awesome communication. Very professional!!! HIGHLY RECOMMEND!! Thank you for all you have done for our house and family!
Amazing!!! Very professional and patient. Walked me through every step and did a great job fixing the water damage. Thank you for the great help!
Kathrin Issagholian
2022-04-21
Phenomenal service, especially when you're in a bind with an emergency and you have small children!
Excellent customer service! I would highly recommend and would use them again over and over and refer to my clients as well. Andy is a pleasure to work with!
I don't know if we're going to go with them, but I contacted 5 companies and they gave me the most professional, itemized quote that inspires a lot of confidence. This isn't their first rodeo and they seem to have solid and accurate business practices.
I recently engaged Flood-Cide for mold remediation at my rental property. They were generally responsive and got the work done on time. Additionally, the mold clearance test passed on the first round. Their office and field consultant for the most part communicated well. Having said that, I feel that I was re-traded. The only reason I went with this vendor vs any other mold remediation vendor was that they explicitly told me they can accommodate all reconstruction, following the remediation -- in effect, it was supposed to be a one-stop shop solution. I asked them multiple times during the bidding process and I was told that the drywall, ceiling and any other repair estimate would come a couple days into the remediation project. Sure enough, two days into this project, I asked for a bid and they told me their construction guys "are backed up for months" and they cannot provide this service. This should've been disclosed upfront. As a result of this disingenuous process, I am now left scrambling for a contractor to fix my walls and ceiling weeks after the remediation process has completed. This is not a good outcome and is not a good user/customer experience. Very disappointing.
We had water damages in our breakfast area and suspected mold infestation inside walls. We were quite panic. FCR's rave Yelp reviews led us to contact this company. So we had Vic to come to our house for a mold remediation estimation. The project proposal Vic sent to us was professional and impressive. Procedures are categorized, itemized and well explained. Nonetheless, as we never underwent interior demolition, etc., we were yet quite nervous. We called Vic a number of times to ask him various questions. Vic was such an empathetic and patient person. He always answered our calls and tirelessly explained things to us while he never pushed us to sign the contract. The team that conducted the remediation project was excellent as well. Jesse, Carlos, and Roberta together did a thorough job with well-trained skills. They were easy to communicate and responsive. They made us worry free! We truly appreciate Flood-Cide Remediation and Restoration!
As an assistant property manager who manage about 20 properties and work with lots of vendors, I have to admit that Flood-Cide Restoration & Construction is one of the best. They are very quick, responsive and professional. I definitely suggest their service.
We had a water leak and they were able to come out on the same day! They thoroughly explained the entire process. The whole experience was professional and comforting. Everyone was so kind and helpful, from the first phone call with the girls in the office to the details that were handled by the guys. They did an excellent and clean job! I appreciate you all so much! Thank you!!
Don't underestimate the value of a great restoration company. Vic and Andy came hours after I had a washer hose ruin my house. The drying process began immediately, and they made the process easy. They did all the paperwork for the insurance and got me the absolute max value. If you've ever dealt with home insurance before, you know they do everything in their power not to pay. These guys protect against that with very detailed diagrams, photos, and explanations. Worth it just for that. After my place dried, it needed to be reconstructed. They immediately got to work and did everything professionally and in a timely manner. I have had previous contractors that disappear and need to be chased. Vic and Andy were always available to answer questions and did it with a smile. And I never had to wonder whether they'd show up. Always 9am on the dot. It's hard enough to have your home destroyed and be displaced, trust me when I say you won't find a contractor or restoration company. A++
Andy was very professional and knowledgeable. I will use this company for future issues.
Andy and the team at Floodcide are a pleasure to work with. They're honest and take pride in what they do! You don't meet many people that are as straight foward as Andy. Definitely would recommend Floodcide for all your restoration needs!
I had sewage spill in my crawl space. Ugh!! Got a few quotes. Someone was at my property same day to evaluate and quote. Flood-Cide was best in price. Started the work quickly. They also took pictures showing what was done. Great customer service. I'm glad I went with them!
Dealing with water damage is never fun. From the cleanup to the construction. It can be overwhelming at times. Flood-CIDE made a major issue, in my mind, a minor one. They were fast, and efficient, and most importantly, professional. Our place looks GREAT!! Thank you to Andy and your team!